Objectives
•Show that the MAC is a key meeting point between the public, artists and their work.
•Reflect the content that embodies the museum's collection through their acquisitions and past events.
•Give access to the recollection of the museum's 50 plus years.
•Target audience: 18-35 year olds
•Follow and expand on the MAC's brand guidelines.
The Interface
•Will be a web based interactive, that should be accessible through a mobile browser.
•Shall observe the stipulated points on accessibility for disabled guests.
•Need to communicate with the museum's database of artists' works through a custom CMS.
A Non Chronological Experience
With a desire to break the conventional timeline experience (seeping through one date after another), we wanted the visitors of the site to be able to build their own timeline experience by navigating through various artifacts set in various decades in no set order. Their path would generate a sinuous line that represented their own journey through the museum's history. 
A Timeline of Artifacts
While thinking the museum built it's history with a collection of contemporary art pieces, it was the acquisitions of these pieces (singular or joint) that marked its history. We opted for the concept-word "artifact" to also represent special events, archived invitations, publications and photography. 
Exit Strategies and The Funnel Problem
During our work sessions, the developper quickly flagged a "funnel" problem, where a person would trickle down a single decade of artifacts and quickly end their experience. The use of "exit strategy" artifacts were implemented to guide visitors onto other decades.
The Artifacts and their Detailed View
An artifact is more than an art piece, it is the moment of time the work was acquired, but it can also represent an important event for the museum. For the sake of a visual based navigation, we used images to represent each artifact, however, in a detailed view, the visitor can easily see all the information that is contained in the aforementioned artifact including the image representing it. Detailed views offer a way for the visitor to dig deeper inside each historical moment and see related artwork that were part of an acquisition or event.
The Linear Timeline: Present, but secondary
As a failsafe to the experience, a linear timeline is always visible at the bottom of the experience to help a visitor situate themselves as they are jumping back and forth through the museum's history. It adapts itself to reveal the current decade and exact date of an artifact.
Facts: Stories to garnish your journey
The client had so much content for their timeline, and had opted to keep some information as secondary level tidbits that the visitor could expand at their convenience. 
Searching: A practical way to find specific artefacts in time.
We were concerned for visitors with a specific objective in mind who were not particularly looking to live an experience. We tasked ourselves to develop a search panel that was seamless to the experience. It would be a trampoline that would send them to a detailed page and then, if a visitor desired so, start their not so chronological journey.
Your Path
We created a view mode with limited actions so the viewer could see the whole path they generated. The growth patterns were inspired by Calder's wire sculptures. Especially in the way they branch out and keep balance.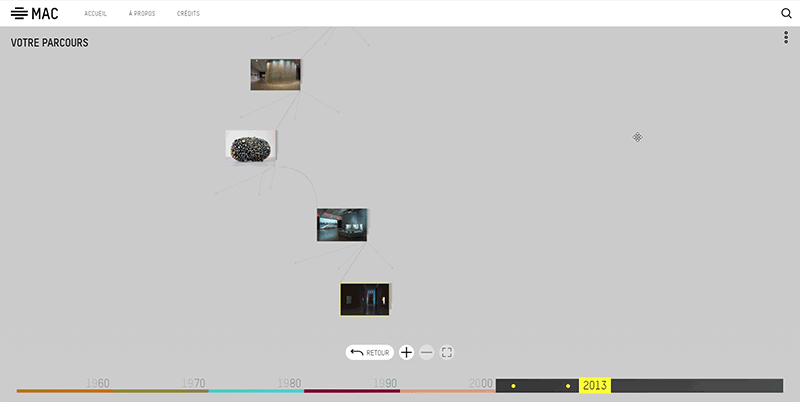 Sharing
We wanted to make the visitor's personal journey a shareable item. This way, another person could visit the same historical moment their friend generated, and possibly continue it or start their own. A more practical shareable option was integrated for detailed views of the artifacts. For example: an Art History teacher could share specific pages to colleagues or students for analysis, but can also be starting points for their own historic journey.